You are viewing old version of our website. Please click on HOME link to be redirected to new site. Thanks.

Both Batman and Batman Returns movies have been translated into computer games in many different platforms.
Most of them include a level or two where the player can control the Batmobile.
Batman the Movie
This game from Ocean software appeared on various platforms from Sinclair Spectrum to Commodore Amiga. Atari ST and Amiga version have a batmobile driving level where player must cruise through the streets of Gotham dodging the traffic and at the same time make successful left/right turns. Since the car is too fast, you have use the grappling hook to latch onto the lamppost and make successful turns. Game is over when you either run out of energy, run out of time, or fail to make successful turn using your grappling hook after 3 tries.
The best driving experience of batmobile!!!!!!!!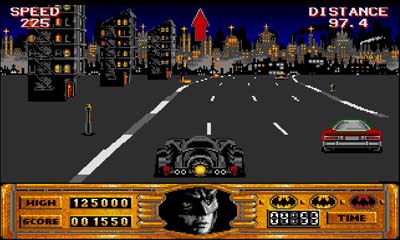 This batmobile can go from 0 to 60 mph in 3 seconds!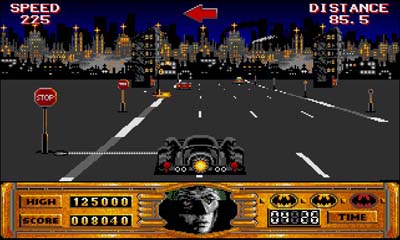 But it can't make a single turn without the use of grappling hook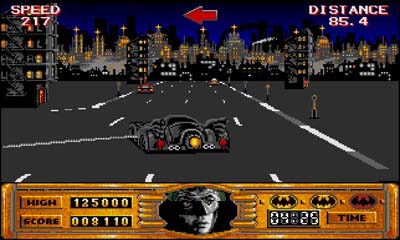 Hooked and ready to make turn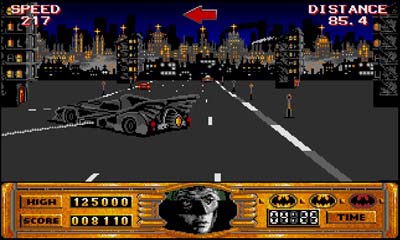 Wrong drive thru.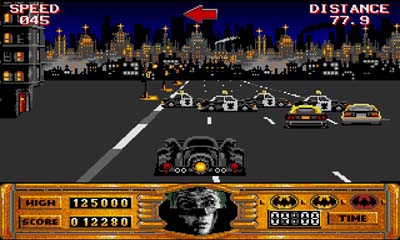 "You're under arrest for damages to more than 84 lampposts."

Baman Returns on Sega CD
This rarely seen game also lets the player control the batmobile and drive through the streets of Gotham. Player must destroy required number of enemies using batdiscs and batmissile before time runs out. This game doesn't really give as much sense of speed as above Amiga game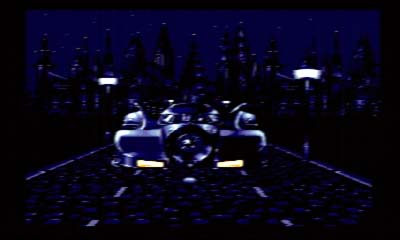 Nicely waxed and ready to roll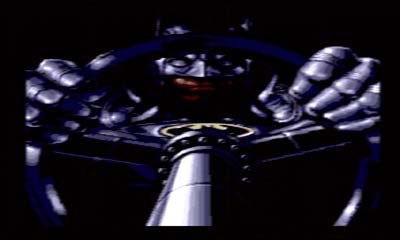 Dear heavenly father...Forgive me all traffic violations ...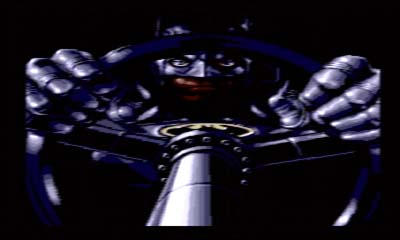 ..........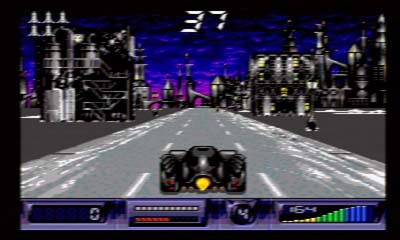 Damn curfew! Not a single criminal in sight

Batman on Sega Megadrive(Genesis)
This game has one small level where player can drive batmobile in side scrolling gotham street.
Batmobile has standard machine gun and missile which you can use to destroy the enemy cars.
Not just this level, but the entire game is very uninspiring and dull. This game has nothing compared to awesome Amiga version above.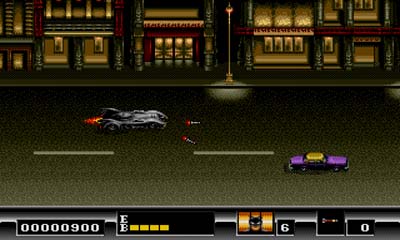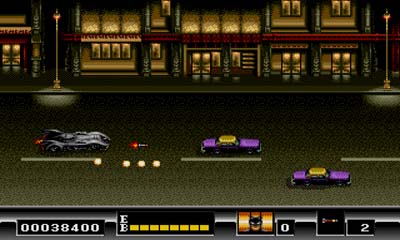 Batman the Movie (Arcade)
Standard shoot'em up using the on screen crosshair to shoot the cars on screen.
You cannot control the batmobile however.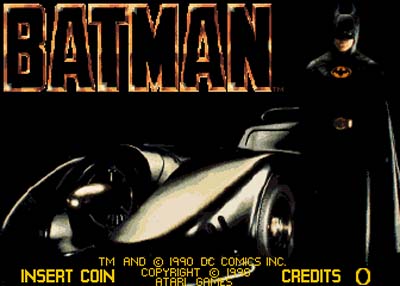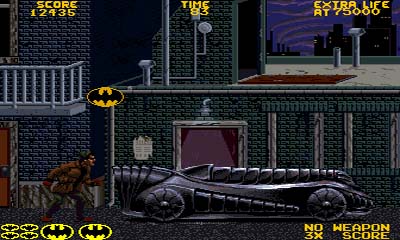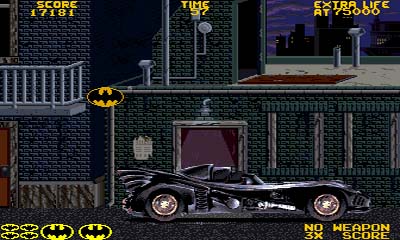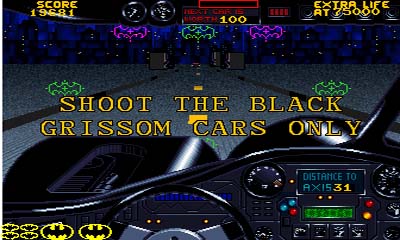 Batman Returns(Atari Lynx)
Not sure if the car was drivable in the game....
Need for Speed III: Hot Pursuit (PC)
An add-on car model for batmobile was made available for this game. But the car looks nothing like the batmobile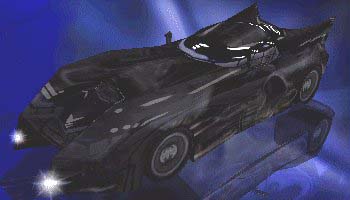 Midtown Motor Madness(PC)
Add-on car model for the game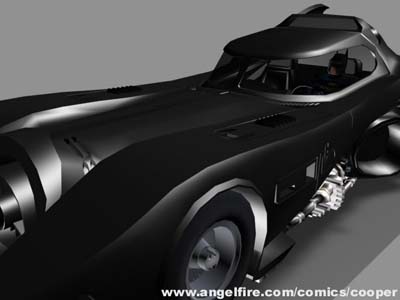 GTA Vice City(PC)
Add-on car model for the game